We couldn't provide our vital services without you.
Donating online is safe and easy with the help of
JustGiving

.

Visit our page to make a donation now!

Please also remember to tick the gift aid box, as this allows us to reclaim the tax on your gift.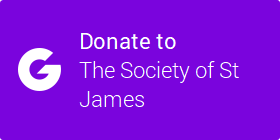 You can also set up your own fundraising page to raise funds for SSJ.
Set your own targets and easily share your page with your friends and family.  Whether you're up for a big challenge or a number of small ones – you decide!
Here's a glimpse at our leading fundraisers atm:

Alternatively if you would like to send us a cheque, please make it payable to "The Society of St James" and post to:
The Society of St James,
125 Albert Road South,
Southampton,
SO14 3FR
Where possible please mark any envelopes for the attention of "Fundraising Team" or contact fundraising@ssj.org.uk if you would like to make a direct bank transfer or would like to discuss a donation.